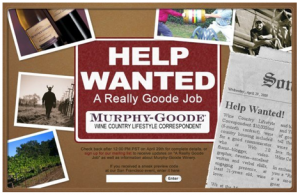 Someone at the Murphy-Goode Winery had an amazing PR idea. The execution of that idea (whether poor planning or someone's crass indifference toward their customer base), has quickly become a nightmare.
At best, Murphy-Goode has shown that it is a company with no concept of the breadth and strength of current social media. At worst, it has shown the world that it is a company completely devoid of basic ethics.
---
It began with the advertisements
"…for an outgoing, web-savvy, articulate communicator to tell the story of the great mountain vines and artisan winemakers of California, tasting the "goode" stuff and experiencing the spectacular Sonoma wine country. The search has been covered by CNN, FOX, NBC, ABC, CBS and in hundreds of major daily papers and newscasts from London to India, thousands of blog and Twitter sites, and has drawn crowds when winemaker Dave Ready, Jr. visits select cities." Murphy-Goode media release
Martin Sargent was one of  hundreds of applicants.  So what makes Sargent special?  Is it his application video?  His website? His vast social media (and other media!) experience?
"Martin Sargent began his television career with ZDTV in 1998. Since then he's hosted, written and developed shows for such networks as TechTV, G4, USA Network, and Comedy Central. Most recently, he hosted Internet Superstar and Web Drifter for Revision3. Martin graduated Summa Cum Laude and Phi Beta Kappa with a degree in English from Cornell University." www.martinsargent.com
On June 17th, after being posted for less than 24 hours, his video had 2,000 votes – far more than any other.  By the application deadline, June 19th, it was well over 4,000 votes – more than double the votes of any other video on the site. By the end, the number was over 6,000.
When Murphy-Goode pared down the candidates to the "top" 50, Martin Sargent's name was not on the list.  In his twitter feed, he graciously thanked his fans and congratulated those who would be continuing in the competition:
"Thank you all for your tremendous support!  But I am not included in the top 50 candidates for @areallygoodjob. Congrats to those who were."
Martin's graciousness did not spill over to his thousands of disappointed fans.
They feel cheated.  They feel betrayed. And they feel ready to pour their anger into their blogs while pouring "badde" wine down the drain:
"Murphy-Goode says #1 spot isn't good enough to make top 50"
"Murphy-Goode announced their top 50 for their really good job contest. The only problem is that @martinsargent wasn't in it. So, for all those that voted, looks like your votes meant nothing to Murphy-Goode. Forget me, forget you Murphy-Goode!"
The last time I checked, nace33's  post had over 300 comments and had been "dugg" more than 2000 times.

Then, Kevin Rose Tweeted the story:
"Wow, Murphy-Goode Winery (@areallygoodjob) just screwed @martinsargent (even though he won most votes)"
Of course, this is just one little tweet.  No biggie.  Kevin Rose only has 916,309 followers. Er, make that 916, 326. 329. 334.  Well, crap. I can't type fast enough to keep up with those numbers.  Maybe none of them drink wine.  Maybe they all missed his post.
If anyone on the planet had missed the story, surely they didn't miss Leo's thoughts:


"You're on my list, Murphy-Goode (and it ain't a shopping list)."
---

When and how do they start trying to dig out from under this mess?  The only thing found so far (and I have Looked!) is a Sunday morning Facebook note.  It got comments from nearly a dozen people.
Angry mobs wielding pitchforks and torches just can't be ignored, but you might have more luck with them than with angry geeks wielding social media.
We will be watching to see how this plays out.